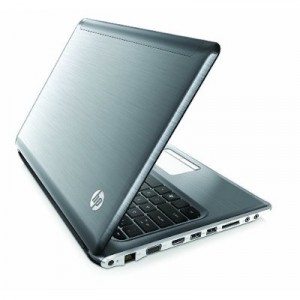 What to do about the HP dm3 touchpad that freezes and becomes unresponsive after waking from sleep. I purchased a HP dm3-1030us laptop from Staples recently. For the inquiring minds, I paid $499 after rebates, a price that I am quite content with. All things considered, this is a very nice laptop for the money and I plan to give it a full review soon.
One problem I immediately encountered however had to do with the touchpad becoming unresponsive once the computer awakens from sleep. No matter how much force was applied to the touchpad or whether the left or right buttons were depressed, the on-screen pointer wouldn't budge, or would only move a slight amount. And in some cases it would change to a magnifying glass icon and be stuck in the upper left hand corner of the screen. Even more strange was that this issue would sort of resolve itself after 5-10 minutes. After that period of time, the touchpad would simply begin working normally. This was really aggravating behavior and I was just about ready to return the laptop for a refund. But I have since spent some time Googling this issue and discovered some good conversation about it in the HP Support Forum.
What my experiences have unearthed are several ways to work around this problem. I'm not a big fan of workarounds as I'd much rather have a solution that is not a workaround, whether that means a driver update or whatever. But in the meantime these suggestions may help resolve your touchpad issues.
In no particular order since they all seem to work for me…
Before putting your laptop to sleep, depress the button between the space bar and the touchpad to disengage the touchpad altogether. This essentially turns off the touchpad. You'll know it is turned off because the indicator light will change to an amber color. Once the touchpad is turned off, you may safely put your computer to sleep. When you wake your computer from sleep, enter your password if necessary and then depress the button again to turn the touchpad back on. The color of the indicator light will change from amber to white and you should be good to go. This method has worked for me consistently.
In lieu of turning the touchpad off before putting your computer to sleep, you can try this instead. Open up the control panel and navigate to the Devices and Printers menu, right click on it and choose Mouse Settings. When the Mouse Properties window opens, click on the Multitouch Gestures tab and deselect all three checkboxes. Apply the changes and close the window. This method also stopped the freezing problem for me, but this method disables multitouch gestures so that may be reason enough for you not to choose this method if you plan on using gestures on the touchpad.
The simplest fix and one that has also worked for me is to simply have a bit of patience. When you wake your computer up from sleep, just chill for about 10-15 seconds before you touch the touchpad. It seems that just waiting for 10-15 seconds may be enough time for the touchpad to resume normal operation upon waking from sleep.
I hope one of these three methods will work for you and if it does, let me know.
By the way, I did notice that there is a new BIOS update for the dm3-1030us available on the HP site. It is the bios version F0A.
UPDATE: In the HP forum, there has been another suggestion for fixing the touchpad freeze issue, although it makes no sense to me, but the fix is this…
Go to Start menu > Control Panel > System and Security > System > Device Manager > System Devices. Find "ACPI Lid" and right click on it. Select "Update Driver Software" and in the next window select "Search automatically for updated driver software". It will search for a moment then report that the best driver software for your device is already installed. Doing that will supposedly also fix the touchpad freezing issue. Does it make any sense? No it does not. But people are reporting that it has fixed their freeze issue… go figure.
UPDATE: I have to conclude that the ACPI Lid "fix" is pure rubbish. I turned multi-gestures back on and did the suggested "fix" of searching for a non-existent ACPI driver update and after my computer woke from sleep my touchpad returned to its problematic state of freezing and displaying magnifying glass icon and being generally unresponsive.
UPDATE: There has just been another BIOS update for the dm3-1030us which brings the BIOS version up to F.22 A. This new update is reputed to fix the touchpad issues. I have installed the update and am waiting for a while before concluding that the problems have been fixed.
[donation-can Coffee show_description=true show_progress=false]