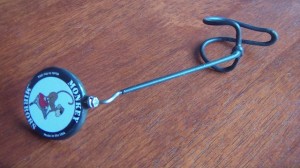 I've got a lot of respect for Bob, the owner of Monkey Mirrors. Not only are these made in the USA, they are about the best helmet mounted cycling mirror I've used. Here's the clincher… Bob continues to improve this simple concept mirror. Kudos.
So the Monkey Mirror has been improved again. This time the mirror surface is sporting a new beveled edge. But wait, there's more… the entire mirror body is a little bit thinner and finally the mirror edge has had a coating applied to it to prevent moisture from working its way in-between the mirror and substrate.
These improvements make the Monkey Mirror better than ever.
Buy local. Support the Monkey Mirror. Visit their website: MonkeyMirrors.com