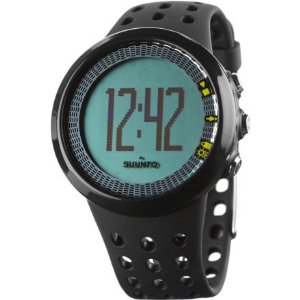 The Suunto M5 Black, is a very comfortable heart rate monitor that offers athletes and fitness oriented individuals to carefully monitor their exercise level by means of measuring the heart rate during exercise. The M5 will guide you to attain a fitness goal (from a list of three choices: fitness, weight or free. If you choose fitness or weight, the M5 will give guidance whereas if you choose free, no guidance will be given) by suggesting workout times and how long of a recovery period you will need after an exercise period. The box contained the watch with men's strap, chest belt with transmitter and the USB movestick for uploading workout data to the movescount website.

I found the Suunto M5 extremely easy and intuitive to set-up. After taking the watch out of the packaging, you simply remove the protective plastic covering the bezel, push a button to wake the watch from sleep, then hold the indicated button for a couple seconds to enter the set-up mode. You'll select the language, units of measurement (metric or imperial), 12 or 24 hour clock, time and date. After that you are prompted to enter your vital statistics:birthdate, weight, height and level of fitness (poor,, below average, fair, good,, very good, or excellent.) You then have the option to accept the suggested max and min heart rate or you can manually override that and enter your own values. Once all that's been entered the M5 assesses your level of fitness and gives you an immediate diagnosis of whether you are overweight. Sigh. It's rather sobering as your optimal weight based on information you entered is given. In my case, I am 6'2″, 203.9 pounds and 58 years old. I was informed that I was overweight and that my goal weight is 191.6. I guess I've got my work cut out for me.
Next you are able to begin to exercise or choose something else. The choices you have are as follows:
-Exercise
-Suggestion
-Prev. Exercise
-History & Trend
-Fitness Test
-Web Connect
If you choose exercise, you are given the workout length of time, heart rate zone and level of exertion for the exercise period. You are free to do whatever activity you want to complete the exercise whether it be running, cycling, spinning, hiking, whatever. For me the monitor displayed: "40 minutes, 120-140, very hard." As you progress through your workout period you are able to cycle through various screens during your workout to view your current heart rate, average heart rate, current time, the kcal you've burned as well as an indication of time that you've been working out. The monitor also displays a series of arrows that run up the outside perimeter of the watch face from the 6'oclock to 12o'clock position. As you progress through your exercise the arrows appear to fill up the space giving an indication of your progress. to assist in helping you stay within the exercise target heart rate zone, an up or down arrow is displayed next to the graphic display of a beating heart. I do wish there was the ability to set your own heart rate zones and to have the watch beed when you go below or above your zone, but that does not seem to be possible with the M5.
As I'm working out I hear the heart rate monitor play short musical tones but it's still not clear to me what they are alerting me to. Strange. In the settings menu you're given the option to turn "all on", "all off" or "buttons off" but no explanation of what tones you'll hear while exercising. My best guess is that a short 3 tone melody plays when you begin your exercise and perhaps a melody plays if you are below your target heart rate zone for an extended period of time… it's like a prompt to get up and go. I suppose as I use the M5 more, I'll eventually make the correlation as to what the tones are indicating.
The M5 is not a heart rate monitor that lets you set training intervals. This is somewhat disappointing for me as I was looking for a heart rate monitor that would give me that ability. After comparing the various Suunto models and also looking at alternatives such as Polar, I was left with a frustrating set of choices. I was not happy that some Polar HR Monitors did not have user replaceable batteries. I liked the clarity and ease of seeing the display on the Suunto M5 so much that that is what sold me. Way more legible to me than other watches I looked at. So for me, I gave up some needed features so that I could have an easily readable display.
The "fitness test" function is a way for the M5 to assess your level of fitness. You start the test and then walk as fast as possible for 1 mile at which point you end the test.
I like the simple operation of the M5 and although that simplicity comes at the expense of the loss of more advanced features such as setting intervals. I like that I have complete flexibility in what type of exercise activity I can engage in. The M5 keeps me on target with my heart rate display and time while I do the rest.
My biggest concern with the M5 is the heart rate transmitter and strap. It is very comfortable system but it is complex in construction in that there are two attachements that secure the transmitter to the belt. With sweat, salt and whatever else mingling with electrical connections, I wonder whether the strap will hold up over time? I can't answer that yet.
It was also very frustrating to discover that while the Suunto heart rate transmitter signal was picked up by the monitors that are on some other exercise equipment in my home gym and the health club I belong to, the heart rate transmitters from those other monitors aren't able to be picked up by the Suunto M5. I was hoping that I could use any of my transmitter straps with the Suunto but that is not the case. It's odd that the other equipment can pick up the Suunto signal but that the Suunto can't pick up the signal from the other transmitters. Should the Suunto transmitter break or fail for one reason or another, it would have been comforting to know that another of my belts would work with it. But they won't and to buy a new Suunto transmitter belt/transmitter will set you back about $70.
Overall I'm quite pleased with the M5. It is a good looking heart rate monitor that I would feel completely comfortable with wearing while out on the town. It has a watch function that is very attractive and the display is very easy to read outdoors and even inside. The digits and particularly the heart rate number is very large and easy to read.
The M5 does not have all the bells and whistles that other heart rate monitors might have but it is versatile in the way it keeps track of your effort level no matter what it is exactly that you are doing. The M5 will not retain more than just your last workout stats but does keep a running cumulative tally of your workouts in the menu "history and trend" and this tells you how many sessions you've done, how may kcals burned in the last 4 weeks and how "on target" you are in the last 7 days and the last 4-weeks by displaying a percent amount. It won't keep track of laps or splits. The M5 also has a simple alarm function where you can set a single alarm.
The M5 gets high marks for i't's looks and legible display. It falls short in features that runners might desire such as splits and laps. The movestick easily lets you upload your workout data to the "movescount dot com" web site.
I'll update my review as I spend more time with the M5. If you have any questions, leave a comment and I'll do my best to reply.