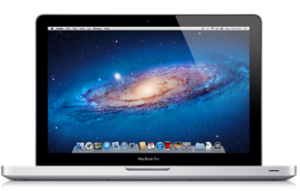 I had eagerly been awaiting the new Mid-2012 MacBook Pro upgrade primarily because of the move to the new Intel processor, "Ivy Bridge." The 2.9GHz Intel Core i7 dual-core processor just makes this MacBook Pro fly. And it runs much cooler than its predecessors. I had my laptop running while on my lap for a couple hours and the bottom case was barely warm. Fan noise was not noticeable whatsoever. To be honest, I don't even know if the fan was operating or not, it was that quiet.
The aluminum unibody case has remained pretty much unchanged for several years. In fact, my previous MacBook Pro, a 2.4GHz Intel Core 2 Duo with 4GB of RAM has the identical case that this new laptop has… it is designated as Model No: A1278 if you look at the bottom of the laptop case.
What Apple threw into the mix which made my decision of what new laptop to purchase was the addition of the Retina Display MacBook. Initially I was tormented with making the correct decision, for me, of which computer to purchase. After I weighed the differences and factored in the cost, it became clear to me that for my use, the 13″ MacBook Pro was the way to go. Here are my reasons…
-The Retina Display MacBook lacks an optical drive. For me, that was a critical feature as I am a Mobile DJ and still rip a lot of CD's to my computer. I did not want to have to carry around an external optical drive so having the internal optical drive on the new MacBook Pro was key.
-The Retina Display MacBook does not have an Ethernet port. Again, this won't affect all people, but for me it was an essential feature that I use all the time. I wasn't ready to give up my dedicated ethernet connectivity port.
-The Retina Display MacBook was priced out of my comfort zone. It's a phenomenal computer but I just could not justify the price.
Honestly, the display on the 13.3″ MacBook Pro is gorgeous. I can see where a photographer might enjoy the Retina Display, but for me, the 1280×800 resolution of the screen on this laptop is perfect. The display is bright, very bright, sharp and has excellent viewing from side to side. I'm not a big fan of the glossy screen, but I have grudgingly accepted it and in some situations it actually is nicer than a glare-free screen. But in other situations it is not the best because of the reflections on the screen of surrounding lights and such.
I had also considered getting an early 2012 refurbished MacBook Pro. That was my second-best option. But for the small difference in price, I would not have gotten USB 3.0 ports and that was important to me, as well as getting Thunderbolt. Admittedly, there are not yet many peripherals that utilize Thunderbolt or USB 3.0 but that is certainly going to change quite rapidly. USB 3.0 is 10 times faster than USB 2.0 and offers throughput of up to 5Gbps. Thunderbolt is even faster and allows daisy-chaining of monitors and other devices. This new MacBook Pro also has an upgraded facetime camera. It is now 720p HD and that's pretty awesome.
Firewire 800 is still included on this MacBook Pro. Undoubtedly, Firewire is getting towards the end of its lifespan but many videographers are still using video cameras that use Firewire and I also have external hard drives using firewire, so this is still useful for me.
The newly added Tunderbolt port is also useable as a mini-display port and you can easily obtain adapters to enable you to hook up to DVI, VAG and HDMI. I do miss not having a dedicated HDMI port, but at least it is possible to get an adapter to fill that need.
The Lion and soon to be released Mountain Lion operating system has garnered a lot of comments both positive and negative. Personally I have not experienced any issues with Lion. The integration with iCloud is fantastic and allows me to keep my contacts, address book, bookmarks all in sync across all my devices (iMac, iPhone, iPod Touch and another MacBook Pro.)
The iLife suite of applicatons included with the computer are excellent. iPhoto, iMovie and GarageBand are tightly integrated and work well. There is room for improvement, to be sure, but I use iPhoto and iMovie all the time and it is an amazingly capable duo.
If you're considering a MacBook Pro for the first time and are coming from the PC world, welcome. You will have a little adjusting to do but it's really easy and you will probably be impressed with how straightforward the operating system is. It just works. I can't even think of when I had a crash or freeze.
I've not yet reached the 7-hours mark for battery life, but still, I've been getting at least 5 hours plus so no complaints.
If you are considering the new MacBook Pro and you're already a Mac user then you will welcome the addition of a much faster processor, the addition of Thunderbolt and USB 3.0.
I am really liking my new MacBook Pro and with 8GB of RAM, and the new i7 Processor running at 2.9GHZ (turbo-boost to 3.6GHz) you will be very happy with the performance.