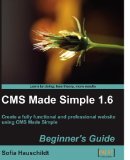 I've just received the book, CMS Made Simple 1.6 – Beginners Guide and will be doing a full review of it soon. In the meantime I just wanted to give a brief overview of the book, of which I have high expectations. I've been using CMS Made Simple to make web sites for over 4 years. It is very competent CMS but there has been a real lack of documentation. Even the CMS Made Simple website lacks complete documentation so I was very happy to hear that a beginner's guide had recently been published.
The book takes a "case study" approach which is actually a very good way to present the information you would need to build a site using CMS Made Simple. I've only skimmed through the book but have already gained a fairly good appreciation for the approach the author takes.
Stay tuned for my complete review that will be forthcoming.
You may also visit the Packt Publishing website to see more of this book including a sample chapter.