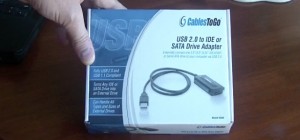 >The Cables To Go 30504 USB 2.0 to IDE or Serial ATA Drive Adapter (Black)
Electronics Cable Adapters)
is a new tool in my arsenal and it's made a huge difference in productivity when needing to work with bare drives or do diagnostics/maintenance on hard drives.
Not having to install a hard drive into an enclosure before being able to access the drive is a very convenient thing to be able to do. Previously I would have to use a Firewire/USB/USB 2.0 enclosure that I purchased from OWC in order to access a drive. But now all I have to do is hook up two cables to the drive (a power cable and the actual IDE or SATA output cable) and then hook the USB to my computer. When I'm done, I just unhook everything. It is just that easy.
You really can't go wrong with this kit from CablesToGo and the price is right.
The CablesToGo kit is available from Amazon.