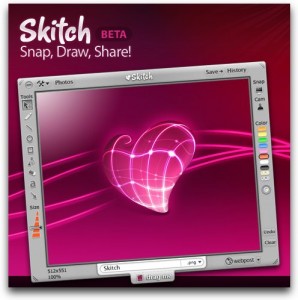 I've been amazed at the usefulness of Skitch, a screen capture and sharing app that I've been using for quite some time. It just can't be beat.
Skich is innovative, fun to use and absolutely fantastic. It's from the same guys (plasq) who developed Comic Life, a truly amazing app that has far more functionality than meets the eye.
There is certainly no lack of screen capture apps; why the MacOS even has a basic screen capture utility built right in which is accessed by command-shift-3 or command-shift-4. But if you want more flexibility in what you want to capture with the additional capability to share it easily, you must use one of the other alternatives.
Many of you have probably heard of Jing, a free screen and video capture program from the same folks who produce Camtasia, the awesome full-featured screen capture program. I've been happily using Jing for about a year but it is a bit cumbersome to use for quick screen capture and I dislike the constant plugs for TechSmith products that you are forced to see when using the product. Oh, the price we pay for using freeware.
Skitch on the other hand is way more useful as a screen capture utility because it has so many additional features. You can easily grab a portion of a website for instance, then use tools to draw a circle around something, add text to point something out then in a flash, upload it to Skitch.com on your personal space, or send it away in an IM or email. Truly powerful, flexible and feature rich. It's been in "beta" for a long time and I'm not really sure why. All I know for sure is that once you spend a few mintes with Skitch, you'll end up wondering how you managed so long without it.
I'd love to hear your opinions of Skitch. Do you have a favorite screen capture app that you use? Let me know.