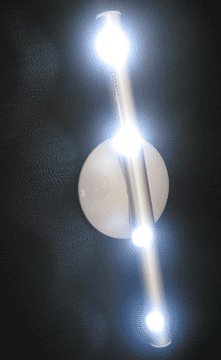 Osram Sylvania Products Inc 72261 Led Light Flute – Silver
While strolling the aisles of BJ's the other day, I discovered this great LED task light called the Light Flute. It's made by Sylvania and it is just one of the coolest LED lights I"ve seen. What makes it so great is its overall design and functionality.
The case of the light is made of anodized aluminum which is light and strong. It feels very sturdy and the end-cap unscrews to reveal the 3-AAA batteries that power 4-white LED lights. The innovative mounting base allows for several different mounting options… magnetic, adhesive and screw mounting.
The slender light is 8.5″ long and about the diameter of your little finger. It can be mounted just about anywhere and is great for mounting under your desk when trying to re-route cables. It could also be used as emergency lighting, as an under-counter light, closet lighting… the list could go on and on.
The Light Flutes were sold as packs of 2 for about $17 at BJ's and are also available from Amazon.com.
I haven't had them long enough to comment on how long the batteries will last, but LED lights are generally pretty efficient so I would expect a minimum of 10-12 hours of continuous light and perhaps much more. I'll update this post once I have a better idea of battery life.