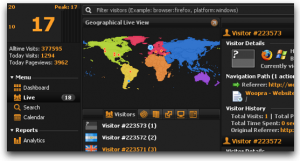 Having the ability to collect statistics on how many visitors come to your website is crucial knowledge. Ever since Google released its free Google Analytics service, the ability for website owners to access this invaluable information has been made that much easier.
Since then there have been a bevy of other companies releasing similar and at the same time more graphically rich and interactive solutions for the savvy webmaster. One of the new kids on the block is Woopra, a powerful, full-featured, statistics and analysis tool. One of Woopra's most compelling features is its Real-time Tracking. This one feature alone will give you valuable insight to how people move through your website, how long they linger on each page, what geographical region they are from and a slew of additional informamtion. Yes, much of this type of information is available from the standard web stats that most web hosts provide. But Woopra is doing this in real-time. You can actually see people entering and leaving your site and watch them as they click and move from page to page. Yes, big brother is watching and the information to be gained is invaluable.
Woopra is actually a client-based application. You download and install the Woopra application to your computer. The application then is configured to follow the sites that you add to it. In order for a website to be tracked, you also need to install a chunk of javascript, similar to how you would install Google Analytics code. This is a small chunk of code that gets inserted at the bottom of each of your website's pages, just above the closing body tag. Once installed, Woopra can begin collecting data and providing the real-time analysis that is so powerful.
An additional and perhaps even controversial feature is the ability to initiate basically an instant messaging session with a visitor that is currently on your website. You select the visitor you want to target and then click on the "Start a Conversation" button in your Woopra app. The visitor will see a pop-up appear on their screen that says "Webmaster wants to chat with you", along with an Accept or Decline button. This seems pretty cool until you mis-use it. Many people could easily be put off by such an intrusion into their "private" browsing. Worse, people might suspect this is some kind of attempt to install malicious software onto their computer. Tread very cautiously here.
Woopra has a variety of different plans ranging from free to $179.95/month. Many people will be quite satisified with the free version as long as your site is not generating more than 30,000 pageviews per month. In any case, the free version is certainly the way to go if you want to check out Woopra, which I'd encourage you to do. Once you start viewing the real-time tracking, you just may get addicted.