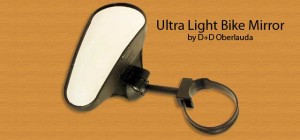 I have a love/hate relationship with cycling mirrors. Most of the ones I've tried, and I've tried quite a few over the years, just haven't worked out well. I think I've finally found one that works pretty well and is fairly flexible in where it can be mounted.
On my road bike I found three areas where it seemed to be good. I mounted the mirror in three different locations; At the end of the bottom of the bars, around the brake hoods and just below the brake hoods on the handlebar. My video review will demonstrate these three positions.
The mirror is very light, weighing about 2 oz. The light weight of the mirror makes it less prone to vibrating. The mirror surface is convex which results in a distorted view and that makes it hard to judge distances using the mirror. However the convex shape gives you a wide angle of view and seeing approaching vehicles is much easier with this type of mirror.
I paid about $25 from Performance Bike and think it'll do the trick for me.
Some of the other mirrors I've tried but didn't like for various reasons were the…
CycleAware Reflex Mirror: This is a helmet mount mirror and it vibrated quite a bit. Also, it was always getting whacked out of shape when I'd take my helmet off. I found it difficult to adjust and the mirror gives a very small field of view. It takes some getting used to.
Blackburn Road Mirror: This mirror has a bracket that mounts over the brake hood. I didn't like it. The mirror vibrated and the extra thickness around the brake hood just bothered me.
Everyone will have their preference, but right now I like the Ultra Light bike Mirror by D+D Oberlauda. I got mine at Performance Bike.